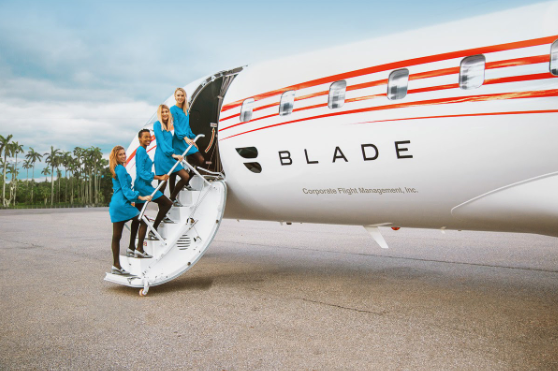 Take A Private Bombardier CRJ 200's to Florida
BLADEone, BLADE's enhanced aviation private jet service between New York and Miami, utilizes retrofitted Bombardier CRJ 200s. Typically configured for 60 passengers, BLADE has masterfully reimagined this jet to seat just 16 guests.
On-board, guests enjoy a beautifully designed interior, complete with full in-air service by two of BLADE's renowned SKYcx cabin attendants. World-class cuisine provided by BLT Restaurants, preloaded iPad Pros with first-run moves and specially-designed Dopp kits with next-generation personal care products complete the experience.
Bombardier CRJs were originally manufactured by the Canadian company Bombardier Aerospace in 1991. There are two models; the CRJ 100 and the CRJ 200. They are virtually identical, except the 200, which BLADEone uses more efficient turbofan engines, which provides lower fuel usage and increased cruising altitude and speed.
The max payload for these jets is 13,500 pounds. The normal cruising speed is 785km/hr, which is 487 miles per hour. The top speed is 860km/hr or 534 miles per hour. Its top altitude is 41,000 feet.
This is a top-of-the-line jet -- with super competitive pricing -- which is one of the reasons why BLADEone is the best way to fly.