Essential Ground Connect provides Safe SUVs in the New York City area for individuals, businesses or communities in need of ground transport.
These SUVs have been reconfigured with a plexiglass partition between the driver and passenger rows. Each driver is subject to a comprehensive daily protocol created by BLADE's Medical Advisor and conducted by our MediMobility team, including driver temperature and oxygen level tests, health update interview and electrostatic decontamination of the vehicle interior.
Drivers, passengers and BLADE personnel are required to wear masks or face shields throughout the duration of their trip.
Starting at $75/hour in all Five Boroughs of New York City.
Trips between Manhattan and the area airports or the Hamptons are charged flat rate fares. See below for more details.
All rides within the Five Boroughs may be subjective to a Dispatch fee ($10), Black Car Fund Fee (2.5%), Inter-Borough fee ($45), NYC Congestion Fee ($2.75) and NY State Tax (8.875%).
Essential Ground Connect for Airport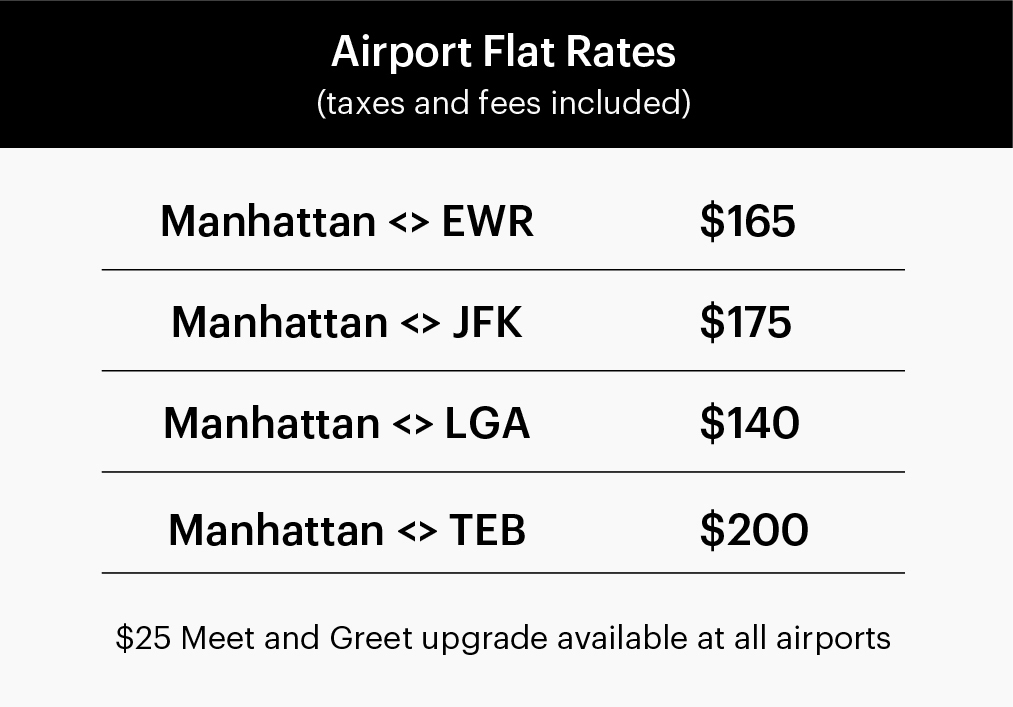 Essential Ground Connect for the Hamptons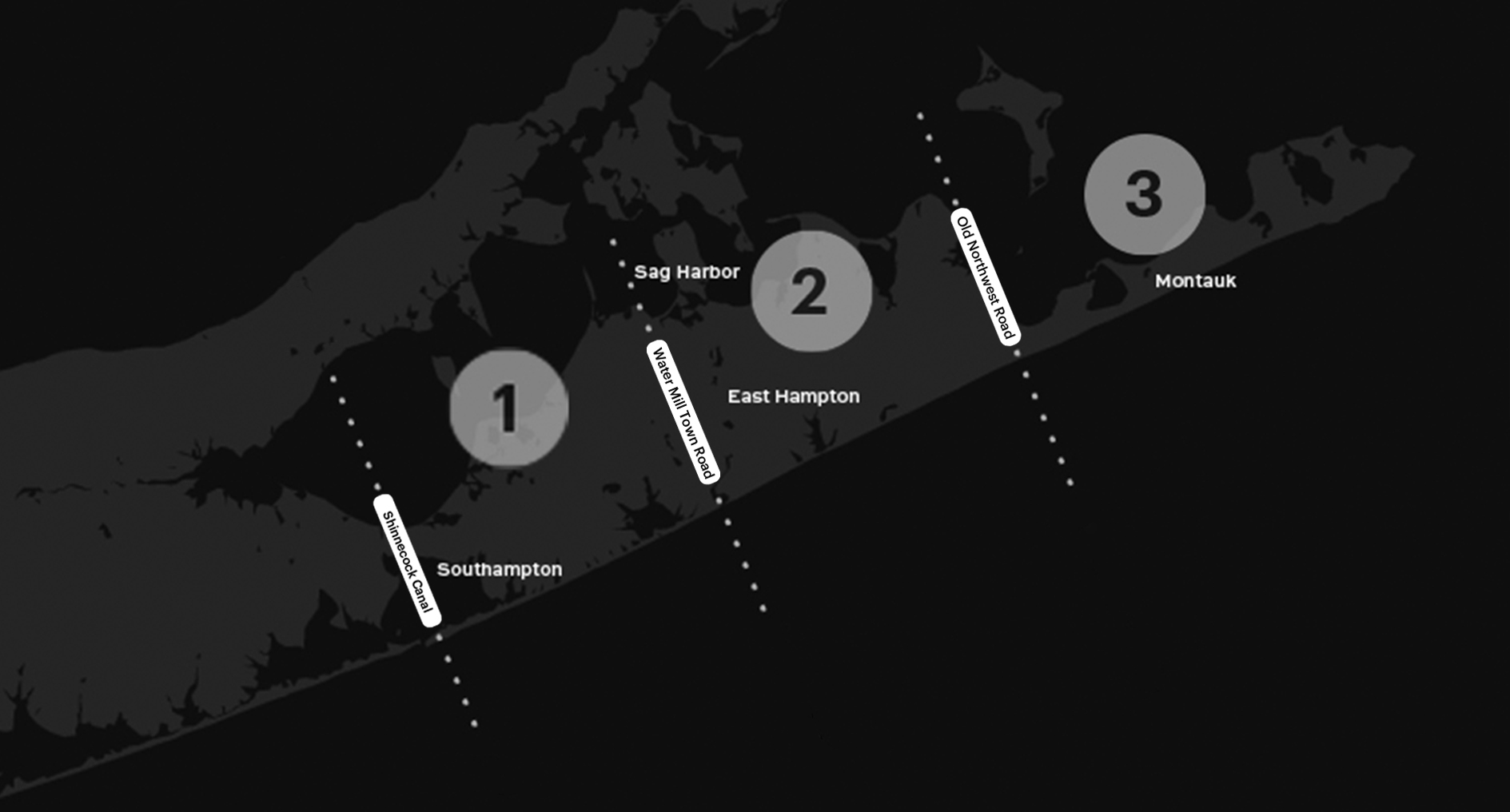 Zone 1: Shinnecock Canal to Water Mill Town Road
Zone 2: Water Mill Town Road to Old Northwest Road
Zone 3: Old Northwest Road to Montauk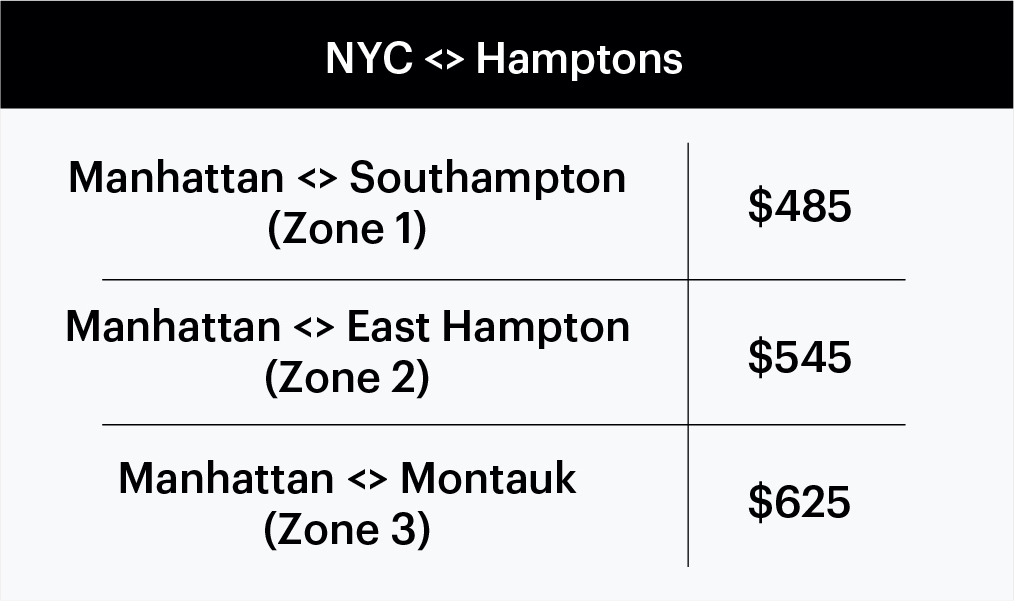 Additional hourly charges of $90/hr may apply if duration exceeds trip time maximums.


Essential Ground Connect for Business
As companies plan to reopen their offices in New York City, it's highly important to mitigate any fears and concerns employees may have about commuting to and from work.
Typical business use cases include:
(i) Shared SUV ground transportation (max two passengers per vehicle) to shuttle employees between home and work
(ii) Standby vehicles pre-positioned at offices to enable immediate departure
(iii) Airport transfers
Significant discounts are available to companies making volume commitments. Please contact our corporate sales team here.

Health and Safety Protocol
Essential Ground Connect was originally launched by our MediMobility division to serve hospitals, including NYU Langone and Mount Sinai, helping to transport medical professionals and equipment.
BLADE Health and Safety Protocol was designed in conjunction with our Medical Advisor to protect our community from the further spread of COVID-19.
---
FAQs
What makes Essential Ground Connect safe?
What is your health and safety protocol?
How is Essential Ground Connect different from a Black Car or ridesharing service like Uber or Lyft?
What's the maximum distance for an Essential Ground Connect trip?
Can I extend the length of my trip?
Will the driver help me with my luggage?
What is the capacity of each vehicle?
What if I can't find my vehicle?
When can I book these vehicles?
What is your cancellation policy?
Are my BLADE credits that I've accumulated eligible to use for Essential Ground Connect?
Can I donate BLADE credits to your relief efforts?