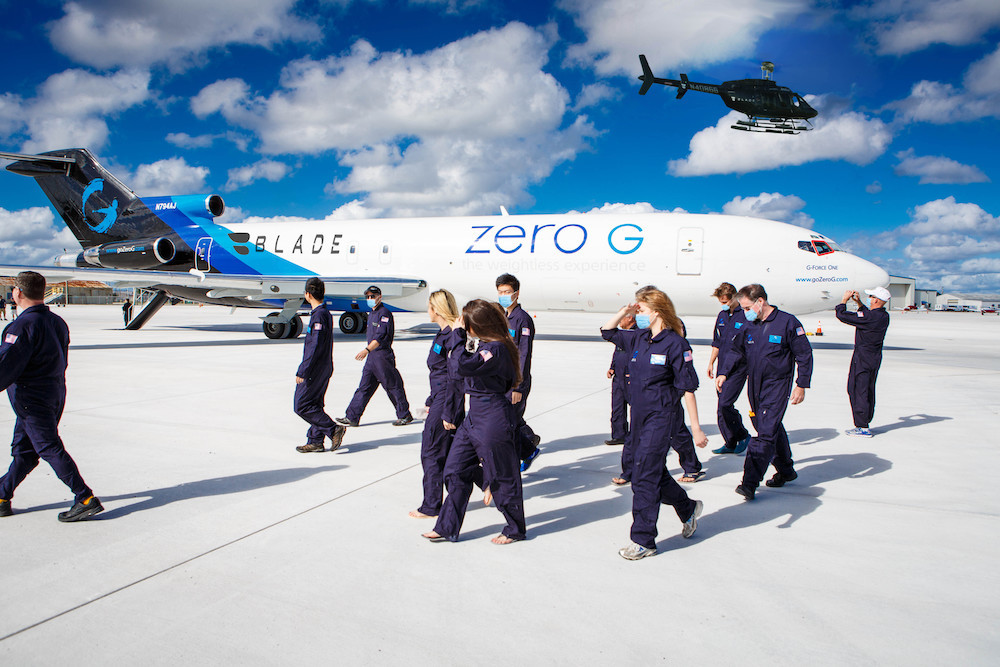 BLADE Like an Astronaut with ZERO-G
Dreaming of traveling to space? While we wait for suborbital and orbital space tourism flights to begin, you can take the first step into your space adventure this Fall by experiencing zero gravity firsthand.
BLADE has partnered with ZERO-G to offer you the opportunity of a lifetime. October 31st only, board the modified Boeing 727, G-FORCE ONE®, and be one of the few individuals in the world to experience weightlessness.
To enhance your journey, round-trip BLADE helicopter flights between Farmingdale Airport and BLADE Lounge East are included with your purchase. We encourage you to book early as we have limited availability at our preferred price. Please note that your helicopter flights will be added automatically to your order at checkout.
What's Included
One round-trip BLADE flight and one ZERO-G flight ticket
Pre-flight breakfast and briefing at BLADE Lounge East
BLADE x ZERO-G merchandise and flight suit
Certificate of weightless completion
Photos and video of your unique experience provided by ZERO-G.
Tour the BLADE x ZERO-G experience here.
G-FORCE ONE® is available for private charter
ZERO-G provides exciting bonding experiences for colleagues, families, and friends. Whether you are planning team building events, fundraisers, or celebrations, ZERO-G offers a unique experience no one will forget. To inquire about charter pricing, contact us at 1-844-359-2523 or reservations@flyblade.com.
Health and Safety Protocol
BLADE Health and Safety Protocol was designed by BLADE's MediMobility team in conjunction with our Medical Advisor to protect our community from the further spread of COVID-19.
ZERO-G Health and Safety Protocol: The new safety protocols include pre-flight temperature checks for all passengers, mandatory mask usage throughout the experience, and a limit of 70 percent capacity on all flights. And as with most modern aircrafts, G-FORCE ONE® will also replace all in-cabin air with fresh air every three minutes.